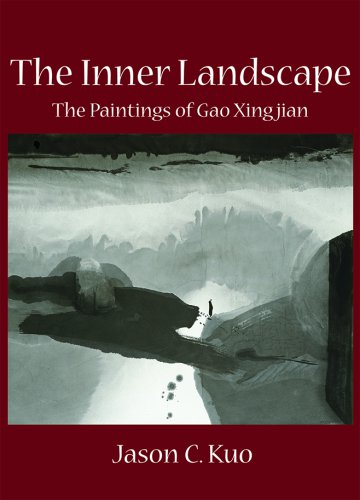 About the Author
Jason C. Kuo is Professor of Art History and Archaeology at the University of Maryland and has taught at the National Taiwan University, Williams College, and Yale University. His numerous publications include: The Austere Landscape: The Paintings of Hung-jen and Transforming Traditions in Modern Chinese Painting: Huang Pin-hung's Late Work. He edited the volumes Visual Culture in Shanghai, 1850s-1930s; Perspectives on Connoisseurship of Chinese Painting; Stones from Other Mountains: Chinese Painting Studies in Postwar America; and Contemporary Chinese Art and Film: Theory Applied and Resisted
THE INNER LANDSCAPE: The Paintings of Gao Xingjian
Jason C. Kuo
---
New Academia Publishing, 2013
354 Pages, 299 Illustrations by Gao Xingjian
ISBN 978-0-9899169-2-9 Hardcover
---
About the Author
Jason C. Kuo is Professor of Art History and Archaeology at the University of Maryland and has taught at the National Taiwan University, Williams College, and Yale University. His numerous publications include: The Austere Landscape: The Paintings of Hung-jen and Transforming Traditions in Modern Chinese Painting: Huang Pin-hung's Late Work. He edited the volumes Visual Culture in Shanghai, 1850s-1930s; Perspectives on Connoisseurship of Chinese Painting; Stones from Other Mountains: Chinese Painting Studies in Postwar America; and Contemporary Chinese Art and Film: Theory Applied and Resisted
Praise
"Jason C. Kuo's erudite study not only details Gao's development as an intellectual, but also contextualizes and explores his attitudes toward writing, painting, and film-making in the interstices of 'East' and 'West'."
―Katharine P. Burnett (University of California, Davis), author of Dimensions of Originality: Essays in
"Jason C. Kuo's in-depth study of the paintings of Gao Xingjian significantly enriches our understanding of a major cultural polymath. This lavishly illustrated book enables us to make important connections between painting and writing… which is very much at the heart of the Chinese literati tradition."
―Paul Gladston (University of Nottingham), principal editor of the Journal of Contemporary Chinese Art and author of Contemporary Chinese Art: A Critical History.
"In this book, Jason C. Kuo offers his readers a multifaceted lens through which to frame an engagement with the remarkable pictorial, filmic, and literary art of the Chinese writer and 2000 Nobel laureate in literature, Gao Xingjian."
―Stephen J. Goldberg (Hamilton College), author of Dislocating the Center: Contemporary Chinese Art Beyond National Borders.
"This is a most thought-provoking and intelligent study of the art of Gao Xingjian. Kuo, driven by a desire for synthesis in his scholarship, brings a modernist practice to bear on a long tradition of
intellectual discourse in China."
―Frances Klapthor, Baltimore Museum of Art