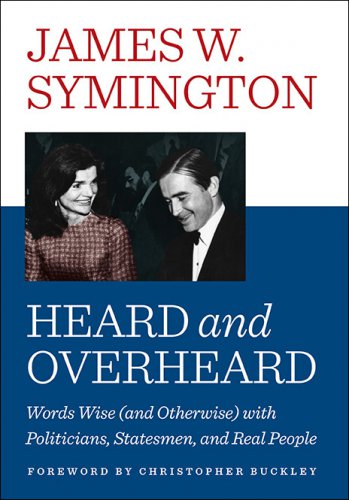 About the Author
James W. Symington was born on September 28, 1927. After serving in the Marine Corps, he entered YaleCollege where he studied history and sang in the Glee Club, graduating in 1950. Attending Columbia Law School, he married Sylvia Schlapp and returned to St. Louis as assistant city counselor befor eentering private law practice. In 1958 Ambassador John Hay Whitney engaged him as his assistant at the embassy in London. A series of jobs in Washington followed, including deputy director of President Kennedy's Food For Peace program, administrative assistant to Attorney General Robert F. Kennedy, and director of the President's Committee on Juvenile Delinquency. He was named Chief of Protocol by President Johnson in 1968. In 1968, he was elected to represent Missouri's Second Congressional District, eventually chairing subcommittees on Space Science and Applications; Science, Research & Technology; and International Cooperation. After four terms in Congress, he co-founded the law firm Smathers, Symington & Herlong, which represented good causes in venues worldwide. Having studied Russian and traveled widely in that venerable country, in 1992 he helped found the American-RussianCultural Cooperation Foundation (ARCCF). He also served as director of the Atlantic Council and as director of the Library of Congress's Russian Leadership Program. He and Sylvia, parents of two grown children and grandparents of five, live in Washington, D.C., and Middleburg, Virginia
HEARD AND OVERHEARD: Words Wise (and Otherwise) with Politicians, Statesmen, and Real People
James W. Symington
---
Vellum, 2015
288 Pages, 39 photos
ISBN 978-0-9864353-3-1 Paperback
ISBN 978-0-9915047-0-1 Hardcover
---
Price: $26.00 Paperback
$36.00 Hardcover

About the Author
James W. Symington was born on September 28, 1927. After serving in the Marine Corps, he entered YaleCollege where he studied history and sang in the Glee Club, graduating in 1950. Attending Columbia Law School, he married Sylvia Schlapp and returned to St. Louis as assistant city counselor befor eentering private law practice. In 1958 Ambassador John Hay Whitney engaged him as his assistant at the embassy in London. A series of jobs in Washington followed, including deputy director of President Kennedy's Food For Peace program, administrative assistant to Attorney General Robert F. Kennedy, and director of the President's Committee on Juvenile Delinquency. He was named Chief of Protocol by President Johnson in 1968. In 1968, he was elected to represent Missouri's Second Congressional District, eventually chairing subcommittees on Space Science and Applications; Science, Research & Technology; and International Cooperation. After four terms in Congress, he co-founded the law firm Smathers, Symington & Herlong, which represented good causes in venues worldwide. Having studied Russian and traveled widely in that venerable country, in 1992 he helped found the American-RussianCultural Cooperation Foundation (ARCCF). He also served as director of the Atlantic Council and as director of the Library of Congress's Russian Leadership Program. He and Sylvia, parents of two grown children and grandparents of five, live in Washington, D.C., and Middleburg, Virginia
About the book
Published jointly by New Academia Publishing and Posterity Press Inc.
Jim Symington has a rare addiction for Washington: he listens. Right-hand man for Bobby Kennedy, Lyndon Johnson and Ambassador Jock Whitney, he was present—often a participant—as national and world events unfolded. Witnessing history from the New Deal to President Obama's Cuban initiative, Symington is a willing recorder of eavesdrops, "ranging in propriety from blasphemy to prayer."
Heard and Overheard is presented in a prefatory sampler and three parts involving "politicians, statesmen, and real people." To read it is to relive pivotal moments of modern history, to meet the giants (and villains) of our time, and to savor a narrative that is epic in scope, gem-like in faceted brilliance, and laugh-out-loud hilarious.
Praise
"….Funny, poignant, and enlightening….Whether read quickly or leisurely, these remembrances captivate and entertain."
—Foreword Reviews
"Jimmy Symington is a one-man institution, and one of the better ones at that…. It is impossible to imagine Washington, D.C., without Jimmy Symington; and now that he has given us this memoir-for-the-ages, we won't have to imagine Washington without him. A splendid and delightful read, by a splendid guy."
—President George H. W. Bush
"James Symington is living proof that through compassion, humor, music and insightful intelligence one can come to a better understanding of people across political, ideological and economic spectra. He is even able to penetrate Churchill's famous description of Russia as 'a riddle wrapped in a mystery inside an enigma.' His acute vignettes reveal the characteristics and idiosyncrasies of both 'friend' and 'foe' alike. His prodigious memory of simple details surrounding his many exploits and adventures is phenomenal and his perspective as an insider with almost unprecedented longevity is a treasure for all to enjoy."
—Professor Vladimir Tolstoy
"Jimmy's stories bring back a Washington that was not only constructive, but fun. He writes as well as he sings, and he's a wonderful singer!"
—Peter Duchin, Band leader and pianist
"As Chief of Protocol, Congressman, lawyer and entertainer, Jim Symington has had a rare behind-the-scenes look at the most colorful characters on the world stage. He and his pianist wife Sylvia have built bridges and fostered relationships worldwide. Intriguing and often humorous stories of his experiences abound in this book. Don't miss a page!"
—Judge William H. Webster, FBI Director (former), CIA Director (former)
"Jim Symington bears witness to landmark historical events, relating them compassionately and often hilariously. He was in the thick of the civil rights battles with Bob Kennedy, and quietly left the Johnson Administration to serve the cause of peace in Vietnam. He remembers when Congressmen could construct solutions that we shared—rather than grind on the differences that divided us. What a gentleman. What a statesman!"
—Christopher J. Dodd, Former U.S. Senator, Chairman & CEO, Motion Picture Association of America
"Jim may be the wittiest blueblood who ever served public office. He is the quintessential aristocrat, yet overcame the handicap of his pedigreed birth with music and mirth. He is a wordsmith par excellence, and readers will delight in his puckish tidbits from the fast lane. His vignettes on 'protocol' are nothing short of fantastic. Heard and Overheard is a keeper."
—Linda Byrd Johnson Robb, daughter of President Lyndon Johnson and Charles S. Robb, Former Governor of Virginia and US Senator
"Jim Symington's pitch-perfect voice is always on key, whether waxing anecdotal in this collection, or singing with his glorious wife Sylvia…. In elected offices and appointed posts, Jim personified the brightest and best of his remarkable generation, and now he speaks for them eloquently—sometimes hilariously—in this lovely book."
—William Dunlap, Artist
"Jimmy Symington…is one of the best story-tellers in the world, a distinction he shares with his fellow Missourian, Mr. Mark Twain… [He] is a WASP Forrest Gump… You name it, he was there. The man has had more lives than a cat; more phases than Madonna."
—from the foreword by Christopher Buckley
"Heard and Overheard is an engrossing read, with a nice mix of funny anecdotes, and serious reflections on topics such as religion and civil rights. His portraits of contemporaries, high and low in social standing, and the colorful LBJ in particular, contribute significantly to the history of our times."
—Ambassador Brandon Grove (ret.), President Emeritus The American Academy of Diplomacy
"This is a wonderful memoir-anthology of episodes and conversations by a connoisseur/participant. The author makes full use of his political, diplomatic, and social experience. He organizes his material with an unusual mix of sober narrative enlivened by witty—some hilarious—anecdotes. The breadth and scope are impressive and make for a very enjoyable read."
—Thomas L. Hughes, Former assistant secretary of state; Former president, Carnegie Endowment for International Peace; Author of Anecdotage: Some Authentic Retrievals