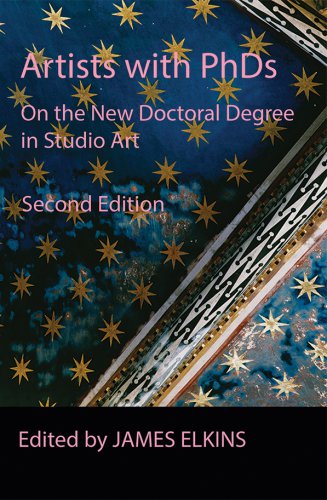 About the Author
James Elkins is E.C. Chadbourne Professor in the of University of Chicago Extension: 1982-83, lecturer. Six courses on subjects related to the practice of art, including beginning and advanced anatomy for artists, history and practice of perspective for artists. University of Chicago, 1982-1983, assistant. Two courses offered at the graduate level in Art and Design (studio work). 1987 and 1988, assistant. Renais­sance Survey. Loyola University: 1988-89, visiting lecturer: Problems in Modern and Postmodern Art. University of Illinois at Chicago: 1988, visiting lecturer: European Architecture from 1750 to 1900. Department of Art History, Theory, and Criticism, School of the Art Institute of Chicago. His recent books include On the Strange Place of Religion in Contemporary Art, Visual Studies: A Skeptical Introduction, What Happened to Art Criticism? Master Narratives and Their Discontents, and Art Critiques: a Guide. Currently he is organizing a seven-year series called the Stone Summer Theory Institute (www.imagehistory.org), (jameselkins@fastmail.jp)
ARTISTS with PhDs: On the New Doctoral Degree in Studio Art, Second Edition
Edited by James Elkins
---
New Academia Publishing, 2014
498 Pages, 55 Illustrations
ISBN 978-0-9915047-5-6 Paperback
---
About the Author
James Elkins is E.C. Chadbourne Professor in the of University of Chicago Extension: 1982-83, lecturer. Six courses on subjects related to the practice of art, including beginning and advanced anatomy for artists, history and practice of perspective for artists. University of Chicago, 1982-1983, assistant. Two courses offered at the graduate level in Art and Design (studio work). 1987 and 1988, assistant. Renais­sance Survey. Loyola University: 1988-89, visiting lecturer: Problems in Modern and Postmodern Art. University of Illinois at Chicago: 1988, visiting lecturer: European Architecture from 1750 to 1900. Department of Art History, Theory, and Criticism, School of the Art Institute of Chicago. His recent books include On the Strange Place of Religion in Contemporary Art, Visual Studies: A Skeptical Introduction, What Happened to Art Criticism? Master Narratives and Their Discontents, and Art Critiques: a Guide. Currently he is organizing a seven-year series called the Stone Summer Theory Institute (www.imagehistory.org), (jameselkins@fastmail.jp)
About the book
This book is the second, extended edition of the first of its kind. It is a resource to help people artists, teachers, administrators, and students assess and compare programs for a new PhD in Studio Art.
Praise
"A PhD in art is inevitable, and so best to explore the implications of this seemingly inevitable development."
–David Carrier, Champney Family Professor, Case Western Reserve University/ Cleveland Institute of Art.
"I find this book to be fascinating and thought-provoking material."
–Andrew E. Hershberger, Associate Professor of Contemporary Art History, Bowling Green State University.
"It is especially timely that a book addressing the many concerns regarding this degree should appear in the US market."
–Tom Huhn, Ph.D., Chair Visual & Critical Studies, Art History School of Visual Arts, New York.
"The book is organized as a constructive debate that encourages people to engage with the issues."
–Lynette Hunter, Professor of the History of Rhetoric and Performance and Director UC Multicampus Research Group in International Performance and Culture, University of California Davis.
"This book furthers the debate by opening various windows on the discussion of studio art."
–Harold Linton, Chair Department of Art and Visual Technology, College of Visual and Performing Arts George Mason University.
"We are in the midst of a paradigm shift.The range of viewpoints presented  in this collection will help spur the debate and contribute to clarifying what is at stake."
–Saul Ostrow, Chair, VisualArts and Technologies, Cleveland Institute of Art