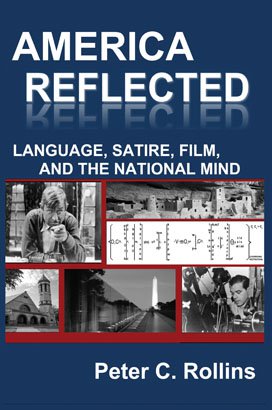 About the Author
Peter C. Rollins is Emeritus Regents Professor of English, Oklahoma State University. He is co-editor (with John E. O'Connor) of Hollywood's Indian (1999), Hollywood's White House (2003), Television's West Wing (2003) and Why We Fought: America's Wars as Film and History. His Columbia Companion to American History on Film (2003) is a comprehensive reference work. Rollins' work in film includes Will Rogers' 1920s: A Cowboy's Guide to the Times (1976), Television's Vietnam: The Real Story (1985) and Television's Vietnam: The Impact of Media (1986). He was Associate Editor of The Journal of Popular Culture and The Journal of American Culture for over a decade, and Editor-in-Chief of Film & History: An Interdisciplinary Journal of Film and Television Studies. In 1994, he received a Lifetime Achievement Award from the American Culture Association. See www.petercrollins.com
AMERICA REFLECTED: Language, Satire, Film, and the National Mind
Peter C. Rollins
---
New Academia Publishing, 2010
748 Pages, 153 Illustrations
ISBN 978-0-9844062-5-8 Paperback
ISBN 978-0-9844062-6-5 Hardcover
ISBN 978-0-9845832-0-1 e-Book
---
Price: $38.00 Paperback
$50.00 Hardcover
$13.30 e-Book

About the Author
Peter C. Rollins is Emeritus Regents Professor of English, Oklahoma State University. He is co-editor (with John E. O'Connor) of Hollywood's Indian (1999), Hollywood's White House (2003), Television's West Wing (2003) and Why We Fought: America's Wars as Film and History. His Columbia Companion to American History on Film (2003) is a comprehensive reference work. Rollins' work in film includes Will Rogers' 1920s: A Cowboy's Guide to the Times (1976), Television's Vietnam: The Real Story (1985) and Television's Vietnam: The Impact of Media (1986). He was Associate Editor of The Journal of Popular Culture and The Journal of American Culture for over a decade, and Editor-in-Chief of Film & History: An Interdisciplinary Journal of Film and Television Studies. In 1994, he received a Lifetime Achievement Award from the American Culture Association. See www.petercrollins.com
About the book
America Reflected offers eclectic film criticism and considerations of distinctive American voices from the antebellum era to the present.
Praise
"Rollins examines the roles of language, satire, and film in reflecting the American consciousness through such diverse sources as Orestes Brownson, Benjamin Lee Whorf, Will Rogers, and Hollywood.  Readers of America Reflected are in for a delightful voyage as they travel through American history and culture with Peter Rollins as their guide providing personal and scholarly insights into the shaping of the American mind."
– Ron Briley is the Assistant Schoolmaster, Sandia Preparatory School, Albuquerque, New Mexico, and editor, The Politics of Baseball: Essays on the Pastime and Power at Home and Abroad (2010).
"From cowboy philosopher Will Rogers to popular perceptions of two world wars and Vietnam, from the history of language to the language of film and television, Peter Rollins has devoted his career to exploring the intriguing ways in which the creative impulse both shapes and reflects American culture. His observations are fresh, illuminating and of enduring value."
– John E. O'Connor, co-founder and long-term editor of Film & History: An Interdisciplinary Journal of Film and Television Studies
"Even those who have known and admired Peter Rollin's acclaimed works will here find enlightening surprises. Epistemology, language theory, war's polemics, filmed history, and an array of significant creators of American
culture are all elegantly displayed. This book will make you a wiser person and charm you while it does it."
– John Shelton Lawrence, Emeritus Professor of Philosophy, Morningside College.
"Two decades ago I was privileged to work on a book, America Observed, with Alistair Cooke. Now we have America Reflected by Peter Rollins, one of the most respected cultural historians working today. Not only does Rollins make good observations about our lives and times, his reflections on a diverse set of subjects helps us to see the meanings of our observations."
– Ronald A. Wells is Professor of History Emeritus at Calvin College, Michigan.
"In America Reflected, Rollins gathers together glimpses of our shared worlds, so that we may observe their interconnections across media, genres, and time. From down-home values and front-porch philosophy, to tales of wars and chronicles of lives, the subjects considered here are all part of the stories we tell about ourselves and our social worlds."
– Cynthia J. Miller, President, Literature/Film Association.