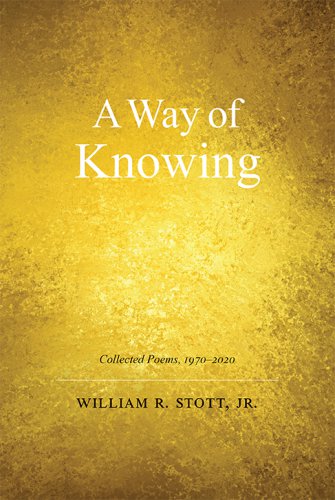 About the Author
A WAY OF KNOWING: Collected Poems 1970–2020
William R. Stott, Jr.
---
Scarith, 2021
74 Pages, 1 Illustrations
ISBN 978-1-7348659-3-6 Hardcover
---
About the Author
About the book
Bill Stott gives this collection of poems the working title of "A Way of Knowing" because it's an exercise in epistemology. As a poet, he creates descriptions that are "concrete, specific, palpable, and real." How does Stott describe what's going on around him? He observes—watching, listening, watching and listening some more, then tells us what he's observed. You can recreate this experiment in epistemology if you read Stott's poems aloud. Savor them as an actor savors a dramatic monologue; let the words pulse into life.
It's difficult to contemplate what we're experiencing. Judgment is always jumping in: "OK, I see what that is. Next!" We're like the White Rabbit in Alice in Wonderland, rushing on with no time for what's now. A poet does the opposite, asking: "Wait; what's that; what's it doing?" The poet has learned to linger, to watch as things unfold. The poet measures time with love, not with efficiency, and shares that love with readers who are willing to enter a moment and abide a while.
This practice of careful observation is the same method Stott uses whether he's writing, leading a birding trip, guiding readers through scripture, or teaching English literature—he asks, "What do you see? Take a closer look. Now what do you see? Look again."
Some of the poems in this collection have been previously published. Some of them Stott thought he'd put away as first drafts, or as notes for further fiddling. But as he reread them, he was surprised to find them finished. They came alive again in a surprising way. Now he wants to let them loose so he can move on to more looking and listening.
Praise
"Marking the world with the footprint of one's passing, touching the earth with the power of the word… this is what poetry does and what the poems in this volume do with such dexterous, diverse and immemorial verbal apparitions." — Francis J. Ambrosio, PhD, Associate Professor of Philosophy, Senior Fellow, Center for New Designs in Learning and Scholarship, Georgetown University
"…it is an experience of beatitude. Fleeting, true; often sad, true; yet it is an experience that, as Stott speaks in his dedicatory poem, leaves one with a sense of privilege which can only end in praise and wonder always." —William Fahey, Thomas More College
"These poems engage us to explore how the usual, the everyday, the common, when truly engaged reveal the spiritual forces that lie within us, within nature, and within our experience of life." —Douglas Northrop